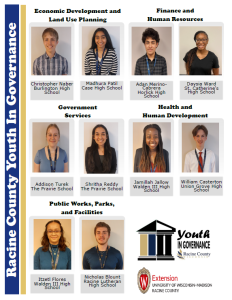 Congratulations to our incoming Youth in Governance representatives for the 2023-2024 year! For the 10th year, high school students from across Racine County will serve alongside Racine County Supervisors on County Board committees.
 The Racine County Board of Supervisors welcomed the following participants to their committee assignments for the 2023–2024 year:
Christopher Naber & Madhura Patil: Economic Development and Land Use Development Committee
Adan Merino-Cabrera & Daysia Ward: Finance and Human Resources Committee
Addison Turek & Shritha Reddy: Government Services Committee
Jamillah Jallow & William Casterton: Health & Human Development Committee
Itzetl Flores & Nicholas Blount: Public Works, Parks and Facilities Committee
Youth in Governance representatives have started attending their assigned committee meetings and participated in the annual Youth in Governance Racine County Bus Tour of different county offices and departments. This cohort is excited to serve their community and already beginning to think about their focus for their community service project. We cannot wait to see their continued impact on Racine County!
To learn more about the Youth in Governance program, visit: https://racine.extension.wisc.edu/4-h-youth-development/youth-in-governance/ or reach out to Maria Gaytan-Martinez at maria.gaytanmartinez@wisc.edu