RACINE COUNTY 4-H OPEN HOUSE 2020

Racine County 4-H will be hosting a virtual open house over the course of several evenings in September.  4-H is a hands-on, learn by doing program the enhances youth leadership, communication, team work, social skills and so much more.  We hope you can join us to learn more about 4-H and the wonderful projects that are offered along with meeting some of our amazing youth and adult leaders.  Click here for more information and to register for the project sessions.  Virtual Open House registrations   We hope to see you there!
4-H community clubs consist of youth in Kindergarten through one year beyond high school graduation (grade 12) coming together. Each club is unique because the members themselves decide which of the projects and activities they want to do.
To start a 4-H club in your neighborhood…
It's as easy as 1-2-3! It takes a small group of 5 or more young people from at least two families and a minimum of two adults who are willing to work with them. Before the club becomes official, proper paperwork must be completed. The group works with the 4-H Youth Development staff to establish a meeting day, time, club name, and to start brainstorming the projects and activities the youth want to do. Support for this new club begins with the UW-Extension office, the Racine County 4-H Leader's Association and the 1,100 members of Racine County 4-H.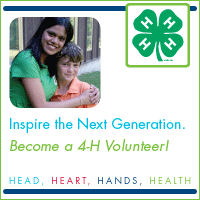 To join an existing 4-H club:
You can join 4-H if you are in kindergarten through one year beyond high school graduation. Here's what you need to do… First, select a 4-H Club to join. Reach out to the club's contact person and find out a little more about the club and its members. Most 4-H members join in the fall, but you can join at any time throughout the year! Second, enroll on 4HOnline at http://wi.4honline.com, which includes selecting your project areas. Third, attend the 4-H club meetings and get ready to discover what 4-H is all about.
For more information on how to join 4-H, contact uwextension@racinecounty.com or 262-767-2929.