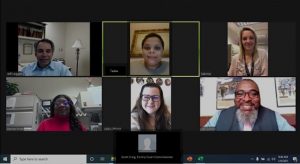 Caseworkers, clinicians, counselors, and other professionals who work with families are invited to attend the Child Support and Family Court FAQ.  UW-Madison, Division of Extension has convened a panel of experts to clarify child support and paternity processes in Racine County.
The virtual program will be held via Zoom on:
Wednesday, March 10, 9:00-11:00 AM – Paternity and Support Establishment/Modifications
Wednesday, March 17, 9:00-11:00 AM – Enforcement/Employment and Parenting Programs
Participants will walk through Child Support scenarios: paternity and support establishment, child support enforcement, and modification of child support, custody, and placement.  The Child Support and Family Court panel will offer tips and answer questions.
NOTE:  Important updates will be shared on significant changes in paternity and genetic testing. 
The FAQ will answer questions such as:
What exactly is the difference between custody and placement in Wisconsin?
If two unmarried people have a baby, do they have to go to court to get paternity and child support established?
What if a mother won't let the father see his child – does this end his obligation to pay child support?
When a parent re-marries does his/her new spouse's income get included for calculating child support?
What is the best way to get accurate information about child support and family court?
The registration deadline is March 3. For more information or to request special accommodations, contact Extension Racine County at 262-767-2929 or uwextension@racinecounty.com.
For more information see 2021-Mar 11 and 17 Virtual CS-FC FAQ Flyer
To register for Child Support & Family Court, click here:  CS&FC_Registration