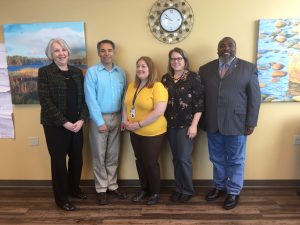 Professionals often hear from families that Child Support and Family Court are confusing and frustrating. As a result, the Greater Racine Collaborative for Healthy Birth Outcomes and UW-Madison Division of Extension Racine County convened a panel on child support in Racine County to help dispel some of the common misconceptions.
A Child Support and Family Court FAQ is scheduled for Wednesday, March 11, 8:30 – 11:30 a.m. at the Racine Kenosha Community Action Agency, 2113 North Wisconsin St, Racine.
The FAQ is designed for professionals who work with families and will answer questions such as:
What exactly is the difference between custody and placement in Wisconsin?
If two unmarried people have a baby, do they have to go to court to get paternity and child support established?
What if a mother won't let the father see his child – does this end his obligation to pay child support?
When a parent re-marries does his/her new spouse's income get included for calculating child support?
What is the best way to get accurate information about child support and family court?
Participants will walk through Child Support scenarios: paternity and support establishment, child support enforcement, and modification of child support, custody, and placement.  After the scenarios, a Child Support and Family Court panel will offer top tips and answer questions:
Lorene Mozinski, Racine County Family Court Commissioner
Jeff Leggett, Director, Racine County Office of Child Support Services
Julie Busch, Paternity Team Supervisor, Racine County Office of Child Support Services
Denise Price, Children First Case Manager, Racine County Workforce Solutions
Kelly Kosloske, Economic Support Supervisor, Racine County Human Services
Van Carson, Coordinator,  Focus on Fathers Initiative, George Bray Neighborhood YMCA
Krista Kennedy, ELEVATE Coordinator, Racine County Workforce Solutions
The registration deadline is March 5. For more information or to request special accommodations, contact Extension Racine County at 262-767-2929 or uwextension@racinecounty.com.
Child Support FAQ Agenda Mar 11
To register for Child Support & Family Court go to:  https://forms.gle/f8ueMjxpvZDWLuWNA