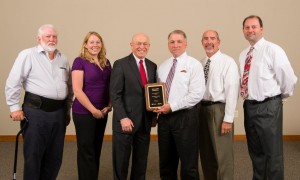 UW Colleges and UW-Extension Chancellor Ray Cross honors
Case New Holland Racine Training Center in Racine
The Case New Holland Racine Training Center in Racine is the recipient of the 2012 Chancellor's Friend and Advocate Award from the University of Wisconsin Colleges and University of Wisconsin-Extension.
UW Colleges and UW-Extension Chancellor Ray Cross presented the award at the institutions' Chancellor's Awards Reception, Sept. 20, in Madison. The annual Chancellor's Awards recognize UW Colleges and UW-Extension partners, supporters and employees for their outstanding contributions to the quality of life in Wisconsin.
Cross praised the CNH Racine Training Center for enriching the lives of Wisconsin's children, adults and families by supporting UW-Extension programming in southeastern Wisconsin. For the past 10 years CNH has been an essential partner in the Youth Tractor Safety program offered in Burlington. CNH provides employees and tractors for the six-day program to help with the hands-on tractor driving training. Each year, approximately 20 youth are certified to operate farm implements on public roads through this program, and they learn about tractor and equipment safety, livestock handling safety, first response, basic first aid response to accidents, health concerns on the farm, and fire safety.
This year CNH sponsored the 4-H Tech Wizards Robotics Rally, hosting the event at their corporate training facility in Sturtevant. Fifty-eight youth from Racine, Kenosha and Milwaukee counties participated, with a total of 15 teams competing. The Wisconsin 4-H Tech Wizards program is designed to prevent juvenile delinquency, provide youth with positive adult role models and promote a positive perception of educational attainment while engaging youth in a robotics curriculum.
CNH employees provide ongoing support to Cooperative Extension youth programs by serving as 4-H volunteers, serving as resources for the Racine County 4-H Tractor Project, volunteering with the Wisconsin 4-H Tractor Driving Competition held in Racine County, and serving on the Racine County 4-H Youth Development Expansion and Review Committee. 
CNH also donated laptops to the Center for Dairy Profitability to use as a mobile computer lab for a variety of statewide agriculture education programs, particularly those focused on finance, such as Annie's Project, Quickbooks and Heart of the Farm. On average, about 300 farmers throughout Wisconsin benefit from these programs every year.
Cross added, "The Chancellor's Awards are a once-a-year celebration of UW Colleges' and UW-Extension's valuable contributions to lifelong learning, but the work of these two institutions is evident every day of the year in all 72 Wisconsin counties by connecting university resources and knowledge to people throughout Wisconsin.
UW Colleges is comprised of 13 freshman-sophomore campuses that offer an associate degree in arts and science and prepare students of all ages and backgrounds for baccalaureate and professional programs.  UW-Extension includes Cooperative Extension offices in 72 counties and three tribal nations, 12 Small Business Development Centers, and outreach and e-learning programs delivered via the 26 UW System campuses and distance-learning channels, as well as the statewide networks of Wisconsin Public Radio and Wisconsin Public Television.
PHOTO: (Left to Right): Kirk Weese, Racine County 4-H Leader's Association President; Bethany Sorce, Kenosha County 4-H Program Assistant; Ray Cross, UW Colleges and UW-Extension Chancellor; Peter Steiner, Manager of North American Service Training at Case New Holland – Racine; Dale Leidheiser, Wisconsin 4-H State Program Director; Tracy Strother, Racine County 4-H Youth Development Educator.