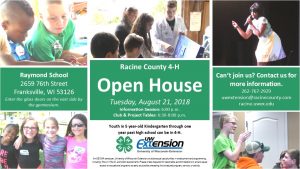 Do you want to learn more about Racine County 4-H? Join us to talk with club leaders and members, see project opportunities and activities, and learn how to join 4-H. Get the basics of 4-H and dive in deep with your questions about the program.
The Racine County 4-H Open House is Tuesday, August 21, 2018, at the Raymond School. Enter the glass doors on the east side by the gymnasium. The information session will begin at 6:00 p.m. Club and project tables will be available from 6:30-8:00 p.m.
If you can't join us, but would still like more information about 4-H, contact us at 262-767-2929 or uwextension@racinecounty.com.
An EEO/AA employer, University of Wisconsin-Extension provides equal opportunities in employment and programming, including Title VI, Title IX, and ADA requirements. Please make requests for reasonable accommodations to ensure equal access to educational programs as early as possible preceding the scheduled program, service, or activity.
Event Location
Raymond Elementary School
2659 76th Street
Franksville, WI 53126