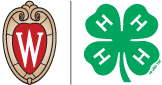 RACINE COUNTY 4-H AMBASSADOR APPLICATION INFORMATION
Racine County's 4-H Ambassador program's purpose is to promote 4-H at community events throughout the year and reach new audiences in various ways. In addition to community events, Ambassadors are seen as leaders at 4-H activities and organize the Racine County 4-H Leadership Retreat. A 4-H member becomes an Ambassador when he/she applies and is selected to represent the 4-H program in this leadership role. Applicants will need to participate in an interview in addition to the application.
4-H Age: Must be in eighth grade or above (2022-2023 school year).
4-H members must have the following skills and abilities:
Mature

Responsible

Public speaking

Commitment

Enthusiasm

A good understanding of 4-H
Requirements: Successful applicants must be able to travel around the county and have a sincere desire to promote 4-H. Each Ambassador must attend at least 75% of all Ambassador meetings or activities.  Failure to do so may result in dismissal from the group. Mandatory activities at this time are the summer (pre-parade /pre-fair) meeting and assisting at the livestock auctions at 2023 Racine County Fair.
Duties: Promote 4-H throughout Racine County. Opportunities may include:
Promote 4-H in the local media with newspaper articles and radio interviews.

Attend community events.

Visit clubs.

Assist with events and activities at the fair (i.e. Call Booth, Auction, Educational Booths, etc.).

Help emcee countywide 4-H events.

Participate in area parades.

Attend Racine County Junior Leader's Association meetings and events.

Present at and help promote the 4-H Open House.

Community service projects.
Selection: Applicants must submit the Ambassador Application form by 11:59 p.m. on Wednesday, September 14, 2022. 
Applicants will be contacted shortly thereafter to schedule and confirm an interview. Interviews will be conducted on September 22nd, before the Junior Leaders Association meeting. Selection to the 2022-23 Ambassador team is limited. 
Benefits: Being an Ambassador takes time and commitment, but you can gain the following:
Improve your self-confidence

Improve your communication skills

Gain new leadership skills

Gain more awareness of your own strengths and capabilities

Enjoy getting others excited about 4-H
An interview will be part of the application process.   Please be prepared for the interview with the following:  
A resume OR your completed 4-H Record Book.   Please be prepared to talk about your extracurricular experiences as well.   (Sample resume attached)  
The following are examples of questions that may be asked during the interview.   Please be ready to answer or demonstrate the following:  

How would you explain 4-H to someone that does not know what 4-H is? How would you walk someone through joining 4-H and the new member questions they may have (picking a club, signing up, answering "what is the time commitment",etc.)? Include some of your 4-H experiences that you could draw on when explaining 4-H to others.

If you are selected as an ambassador, what is an outreach idea that you have that could help increase the community awareness of Racine County 4-H?
Note:  Current Ambassadors will have the option of continuing on for an additional year. If an ambassador choses to extend for an additional year, they will have a year-end review in lieu of re-applying.